May 2020
A
Anna KInsale joined the Police Force in 1958. In the first of this series, set in 1965, at the age of 25, Anna has been newly promoted to Detective Constable. She's stationed in Essex, close to the East End of London. Anna's role as a detective in the British police in 1965 and the way she reacts and behaves in her job, has to be set against the cultural and social norms of that period in history. Some of her male colleagues feel aggrieved about this plum job being awarded to a woman, but Anna is strong. She's on a high and cares little for what she sees as petty jealousies. Soon she's thrown in at the deep end, involved in a complicated case,. She has to help solve the mystery of some very dodgy financial dealings, as well as a double murder !
_______________________________________________
Spring 2020
'Oceana' is the third book in the Minnie-May trilogy.
Minnie-May is the narrator, using both her diaries and her memories to create her autobiographical stories.Minnie-May introduces herself in Book 1, 'Wild Waves & Dragon's Song'. She begins her story at the age of 11 and continues into her early 20s. Home is a state of mind. She is an outdoor girl in much of what she does in life. She can sleep under the family of stars above, or slumber in a boat, where the waves are members of her clan. She loves the ocean; the feel of rippling water gently caressing her toes when she paddles from the shore.She visits a remote island off the coast of Ireland and falls in love. She gets a job as a DJ on a pirate radio ship, moored off the Essex coast !In Book 2, 'Planing Footsteps in the Sea', she develops her skills as a researcher, learns to dive, encounters a stranger who appears to belong to the 16th century and meets a young woman, a sailor, who is circumnavigating the world. She records her own adventures as a sailor, culminating in her experiences as a competitor in the 1974 Round Britain and Ireland Yacht Race. Reality merges with fantasy during this challenging race when she and her fellow crew member are stranded on a remote Scottish island after a storm at sea. Mysterious happenings occur in this place. She and her co-sailor and childhood friend become lovers.In this final Book 3, 'Oceana', Minnie-May, continues her work as an oceanographer. She gains a place on a three month research voyage to the Puerto Rico Trench, one of the deepest parts of the ocean on Earth. She takes on the role of general dogsbody on board, but also gets the opportunity to dive to amazing depths and see miraculous creatures belonging to the other world of the deep sea.
https://www.amazon.co.uk/OCEANA-Minnie-May-Philomena-Digings/dp/1674711425/ref=sr_1_2?crid=11KD227P32B1U&dchild=1&keywords=philomena+digings&qid=1593171257&s=books&sprefix=philomena+digings%2Cstripbooks%2C-1&sr=1-2
____________________________
Summer 2019
'Planting Footsteps in the Sea' This is Part 2 of the Minnie-May story.
n
In the first book of a planned trilogy – Wild Waves & Dragon's Song' - the reader is introduced to the main character, Minnie-May Houghton. She begins a diary and account of her life in 1960 at the age of 11. Therein can be found the first part of her story. There are extracts from her diary and accounts of her life from 1960 until 1971. This book, 'Planting Footsteps in the Sea' - is a sequel with further diary extracts and accounts taking her from 1971 at the age of 22 up until the age of 25 in 1974. This time the story is interspersed with flashbacks to earlier times and the dreams and the dragons are still present.The story is in two discrete parts:
Part One, 'Dragon's Island', begins in the autumn of 1971. Minnie-May describes her trip, as an environmental researcher, to the mysterious sounding 'Dragon's Island'. Strange things happen. The science becomes interspersed with the fantastic !
Part Two, 'Sail Away', she records her adventures as a sailor, culminating in her experiences as a competitor in the 1974 Round Britain and Ireland Yacht Race. More other-worldly happeningsand a life-threatening accident.
February 2019
My autobiographical book, 'Lambourne - A bridge to Childhood' has just been published. It's available for sale on Amazon in both paperback and Kindle versions.
The book contains memories and anecdotes about my childhood in the 1950s - being brought up in a Victorian School House where my Dad was the Headmaster and the school was an extension of home. Happy Days !
_________________________________________
March 2018
My new novel

'Wild Waves & Dragon's Song'

has just been published and is available for sale on Amazon in both paperback and Kindle formats.
https://www.amazon.co.uk/Wild-Waves-Dragons-Philomena-Digings/dp/1985778599/ref=sr_1_1?ie=UTF8&qid=1522068333&sr=8-1&keywords=wild+waves+and+dragons+song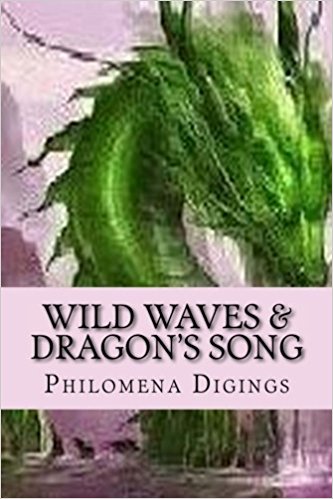 HAPPY READING !
THE PLOT: Minnie-May Houghton begins writing a diary and an account of her life in 1960 at the age of 11. In this book is to be found a series of extracts from each of these, dating from 1960 until 1971 when she is 22 years old. She writes of her happy family childhood in the protective bubble created by her Dad and Mam. She relates experiences of schooling within the tight constraints of a Roman Catholic convent school; her initiation into the Catholic religion and, later, her rejection of the Faith. She talks of her love of myths and magical places, especially islands. She relates her adventures on an expedition to a far-away place. She describes her involvement with radio hamming and broadcasting, including her escapades as a DJ on the pirate radio ship, Boudicca. She confides encounters with the opposite sex, including the joy of first love and the devastation of parting.
May 2017
My novel, 'The Centre Cannot Hold' has been published and is available for sale on Amazon in both Kindle and Paperback versions.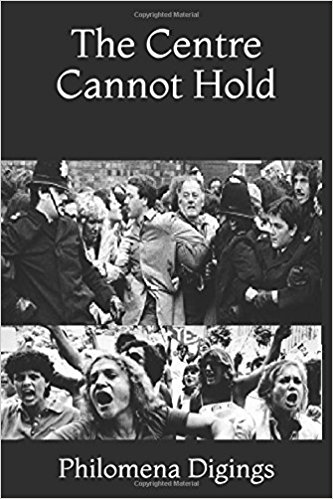 https://www.amazon.co.uk/Centre-Cannot-Hold-Philomena-Digings-ebook/dp/B0716LW5F6/ref=sr_1_1?s=books&ie=UTF8&qid=1494157702&sr=1-1&keywords=philomena+digings

I have dedicated it to my husband, Roger Digings. In 2015, a collection of my poetry was published. Whilst helping me to search through my numerous files and papers for poems I had written over the years, my husband came across the bare bones of a novel I had begun in 1974. It had lain forgotten for many years. With his encouragement, I decided to pick up the threads and finish the story ! So, thanks to Roger, here it is - 43 years later !
In respect of this novel, I was a student in 1974, so the highly charged political atmosphere of the time was an integral part of my being. To bring that era back to life, has been an emotional and intellectual journey. I find it uncanny that many of the issues and events I have portrayed here, still hang over us like ghostly shadows from the past.
Please do enjoy reading it. I welcome comments and constructive criticism. I would appreciate feedback via email or the 'WordsFlyPast' page on Facebook. You can also review it on Amazon.
Thanks !